Note: Android users in 6.0 and above must enable localization (Google prerequisite for connected objects).
Add a product by pressing the + button at the top left of the application.



Select Homni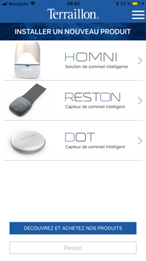 Place your Homni in your bedroom and near your bed. Plug in the power cable, your Homni's display turns on.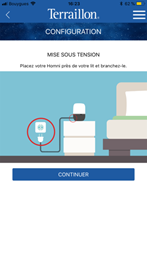 Important note: if the lighting of Homni is lit, it is necessary to extinguish it before starting the pairing. Press the left or right touch pad to turn off the light. Then proceed to the next step.
Maintain the touch interfaces on the right and left of your Homni for 3 seconds: the display of your Homni displays a symbol of synchronization.
Then press Continue.
Select your Homni.
Select a user profile and rename it as desired. Then press Confirm.
Note: The maximum duration of the synchronization procedure is one minute. If this time is exceeded, you will have to repeat the procedure.
For the setting of your sleep and wake program, a preview of the program starts when you change one of the proposed parameters.
Choose between the Sunset program and the Cardiac Coherence program. Set the duration of your sleep program, its brightness, music and volume.
Press Continue.
SETTING YOUR WAKE-UP PROGRAM
Define your alarm (s) by selecting the corresponding time and day (s).
Note: You can only program one alarm per day.
Then choose how many minutes before your alarm time you want the light to come on, then its maximum brightness.
Note: the brightness will gradually increase until you wake up.
If you wish, you can choose one of the six pre-loaded music. Then choose the volume of this music (it will gradually increase).
Note: the music is triggered at the set alarm time.
Press Continue.
SETTING THE PERIOD OF ANALYSIS OF YOUR SLEEP ENVIRONMENT
Select the start time and end time of the monitoring and press Continue.
Note: the analysis time slot can not exceed 12 hours in total. The defined period has no impact on the activation of the sleep program and the triggering of the alarm.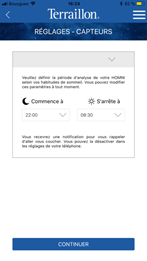 Press Continue.
SETTING THE DISPLAY OF YOUR HOMNY DURING THE NIGHT
Select the information you want to display on your Homni display.
Select the format of the displayed time.
Turn on or off the night view.
When night view is on, your Homni's display stays on all night.
When the night view is off, your Homni's display is turned off during the monitoring period. However you will always be able to turn it on anytime
Press Continue.
Your Homni is configured. You will be able to download Homni's data every day by dragging down the main page of the application.