Apple and Google require to use your location to allow the pairing of your product. It is mandatory to accept a number of permissions which are proposed during the first installation of the application.
Note to iOS users: OS versions 14.1 & 14.2 may cause Wifi scales pairing failure
Make sure that the OS version of your iPhone or iPad is at least version 14.3
To modify these permissions, you can access:
Under ANDROID: Settings / Apps and notifications / MyHealth
Under iOS: Settings / MyHealth
PREREQUISITES
- Make sure you have your smartphone connected to your home Wi-Fi network
For more information, read the article : How to configure the 2.4 GHz WiFi network of the main internet box
- Make sure you have accepted all the requested permissions
- Make sure you have working batteries in your scale
- Make sure you are next to your scale during the pairing process
Access the product categories page during the registration or from the DEVICES menu, then PAIR A NEW DEVICE
1. Click on "Wi-Fi" ; authorization requests may appear at this stage


iOS screenshot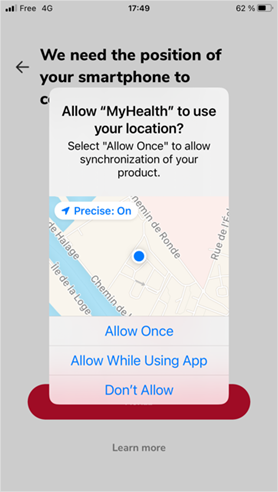 2. The application selects by default the Wi-Fi network which your smartphone is connected. Enter the corresponding password

Note: the smartphone and the scale must be connected only to the same 2.4Ghz wifi network when pairing. The 5Ghz wifi band is not supported.

3. Follow the setup steps (3 screens).

Wait for the scale to display 123 before selecting "PAIR" in the application.
The below procedure should not exceed 1 minute

Screens 1 & 2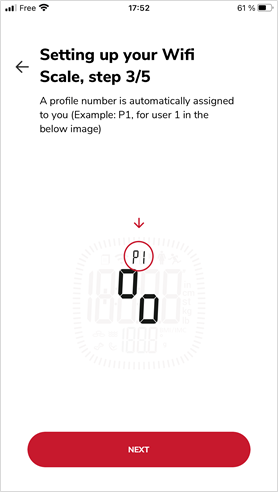 Screen 3: As soon as the flashing number 3 appears, immediately press "PAIR".

4. The pairing sequence should continue automatically (steps 1-2-3-4).

Brackets [ ] must appear on the scale display and in the app. You can now weight yourself barefoot to complete the pairing and thus transfer your 1st weight data to the application.




If an error message appears, please follow the below article.

https://terraillonhelp.zendesk.com/hc/en-us/articles/360024315514-I-have-difficulties-to-pair-my-Master-Coach