You may have activated the Snooze Mode instead of turning off the alarm.
Snooze Mode is illustrated by a flashing clock icon (2) on HOMNI display.
To stop the alarm, keep your hand for 2 seconds in front of the Movement Sensor (4) ; clock icon stops flashing.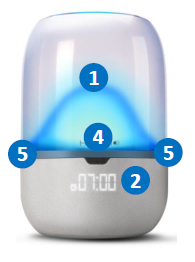 When the Snooze Mode is on, HOMNI will keep running wake up program every 10 mins and lasts for 30 mins every time.