NutriTab connects automatically to your smartphone. It is not necessary to pair the scale with MyHealth application.
PREREQUISITES
- Make sure you have your smartphone connected to a Wi-Fi network or in 4G
- Make sure you have your smartphone's Bluetooth enabled
- Make sure you have accepted all the requested permissions
- Make sure you have working batteries in your scale
In the application, select the food item to be weighed using + and then :
- by scanning the packaging barcode (for industrial foods), or
- by searching in MyHealth database (for raw foods or homemade meals)
You may have to complete your profile before accessing these 2 options. This information is required to calculate your daily caloric need.
Once the food is found, its nutritional sheet for 100g is displayed. You can use NutriTab to weigh the desired quantity which will automatically adjust the nutritional information.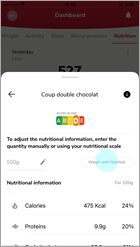 Turn on your scale, the connection is made automatically and Bluetooth logo is displayed on NutriTab screen. 0g is shown as well as on the application, you can now weigh your food item. Press CONFIRM to view the edited nutrition sheet.
Scroll down to select NEXT, fill in the date and time, then record your food itme in your nutrition diary.