Apple and Google require to use your location to allow the pairing of your product. It is mandatory to accept a number of permissions which are proposed during the first installation of the application.
To modify these permissions, you can access:
Under ANDROID: Settings / Apps and notifications / MyHealth
Under iOS: Settings / MyHealth
PREREQUISITES
- Make sure you have your smartphone connected to a Wi-Fi network or to the 4G
- Make sure you have your smartphone's Bluetooth enabled
- Make sure you have accepted all the requested permissions
- Make sure you have working batteries in your scale
- Make sure you are next to your scale during the pairing process
Access the product categories page during the registration or from the DEVICES menu, then PAIR A NEW DEVICE
1. Select "Body scale", and follow the below steps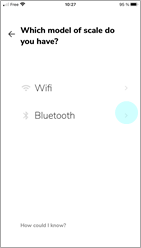 2. Scale off, press and hold the button on the back of the scale until an animation appears on its screen. Put down the scale and now click on PAIR in your application.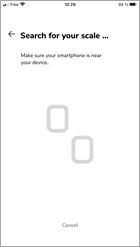 3. Once you have found your scale, press the red arrow and assign yourself a profile number (P1 to P8). See the article "What are the profile numbers for on the scale?"
4. Press FINISH. We strongly recommend that you weigh yourself after this step to confirm the pairing.